CVGM.net
Song Information
Tags for song:
Drum&Bass
Related songs:
Regrinder
by
Paniq (Leonard Ritter)
Schooled in the Methods of Murder
by
Little Bitchard (Arto Koivisto)
Cauldron Sinus Milieu
by
Mini Melodies (Sascha Zeidler)
Weight of the Future (Demo version) - 4 Edges
by
Little Bitchard (Arto Koivisto)
Anti-Beach
by
Love Through Cannibalism
8 Bit Jungle
Author:
Hoffman (Ian Ford)
Unsere Doofen Ossis [UDO]
Production Label:
Unstable Label
Uploaded By:
FishGuy876
Song Length: 56:30
Release Year: 2011
Song Status: Active
Song Bitrate: 192 kbps
Song Source: OldSkool
Song Platform:
Computer » Amiga (500 / 600 / 1200 / 2000 / 3000 / 4000)
Additional Information:
All the tunes in this mix were written on a Commodore Amiga using Pro-Tracker.
They are from the 8-Bit Jungle Music Disk which comes on three floppy disks. If you know how to get an Amiga emulator up and running, go to this link and go check it out....
[url]pouet.net/prod.php?which=57727[/url]

Last Queued : 4 weeks ago
This song has been played 9 times. [See Request History]
It was added 11 months, 1 week ago.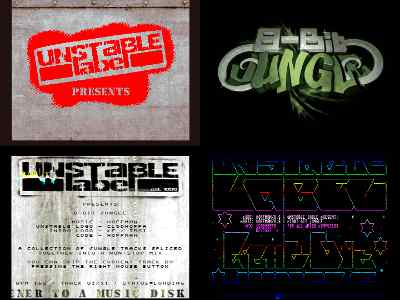 Download Pouet Production:
Click to Download
Song Rating
Song Rating: 4.4 - Votes Placed: 5
View Voting History
A total of 2 users have this song on their favourites list.
Compilation / Remix Information
Screenshots
Add new screenshot
Song Corrections & Updates
[Edit Information] - [Add Links]